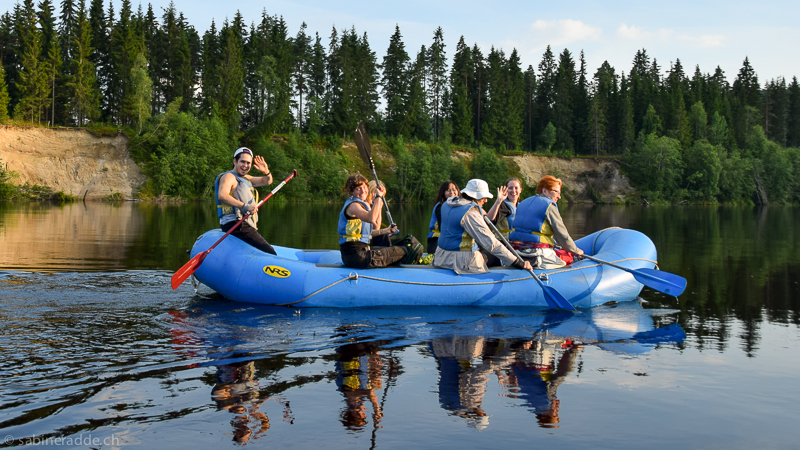 This weekend is a combination of Swedish nature and culture. When in Sweden you should not miss the chance to experience "wild life" (Vildmarken): to hike, go on an adventure trail, or build your own raft and float down the river.
The costs for this weekend includes room, board, one activitiy on Saturday, and transportation.
Friday
Transfer by bus to Värmland. The afternoon is reserved for free activities, such as hiking, canoeing, different sport activities or swimming. The rafters build their rafts today and those who have chosen another activity than rafting have the opportunity to go on a beaver safari (approximatily 100 SEK extra costs to be paid to the guide).
15.00 – 19.00 Rafters build their rafts
17.30 – 00.00 Beaver safari (optional)
19.00: Barbecue
Saturday
Vildmark Värmland for timber rafting or
Adventure experience around a canyon with different activities (zipline, birma bridge and repelling) or
Hiking through nature with a guide
Lunch will be provided. Please indicate on the application form your choice of activity. Typical Swedish food will be served in the evening.
Sunday
Breakfast in the morning, cleaning of the stugas, free activities.
12.00 Departure
13.30 Visit to the home of Selma Lagerlöf.
15.30 Start of return trip with dinner at a restaurant on the way to Uppsala.
21.30 Arrival in Uppsala
Reservations
In order to reserve a place on this trip please mark it down on the application form and pay the full amount, of which 1 000 SEK is a non-refundable deposit, since we must make the reservations in advance. The number of participants is limited, and reservations are taken on a first-come-first serve basis.