Single Room
This room is included in the course fee. Rooms are around 22 square meter. All rooms have a private full bathroom, a fridge and a pantry with a microwave, as well as internet connection via ethernet cable. You will have to bring your own ethernet cable or buy it at the cafe in the building. Bed sizes vary between 90 and 100 cm wide. Unfortunately we won't be able to tell you the exact size beforehand. Laundry facilities, a small gym and fully equipped kitchens are available in the common areas.
For more information, please click the following link:
http://housingoffice.se/accommodation/exchange-students-master-students/kungsgatan-27/
The single rooms are located at Klostergatan 16. This is a very central location and it's at most an 8 minute walk to the school.
Good to know:
the accommodation our students stay in has a very good standard, but they are still student rooms.
it will not be possible to check-in earlier than program start or to stay in the rooms after the program has ended.
the UISS provides duvets and pillows, but please bring your own bed linen and towels.
Arrival
You will presumably land at Arlanda Airport, about halfway between Stockholm and Uppsala. From the airport take bus 801 or the train to Uppsala and get off at the train station. Upon arrival at the station in Uppsala, take a short walk to Kungsgatan 27, this is where the administration of housing is located. The entrance for students is located at Klostergatan 16, but still in the same building.
For directions from the station (A) to the incheck and housing location (B) and from there to the school (C) you can use the map.
Check-in times are between 9.30 AM and at the latest 4 PM. Check-in at earlier dates or times (or later than 4 PM on arrival day) will not be possible at all. It is better to arrive a day early and book a room in a youth hostel or hotel than to arrive late.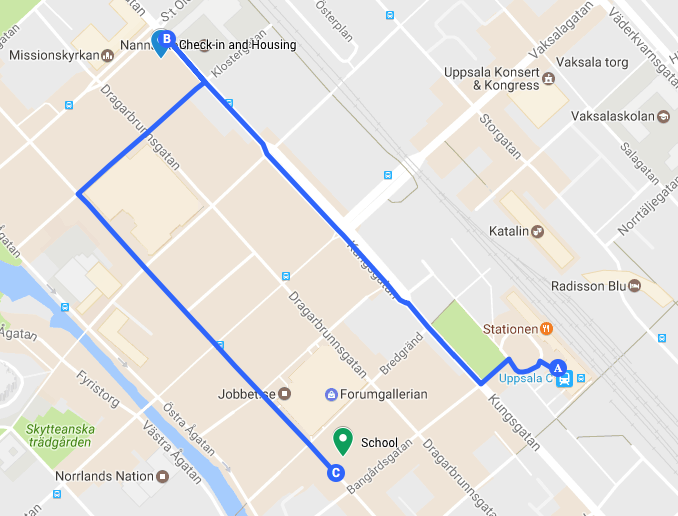 Check-in
You can check in on Sundays on June 16, July 7 and July 28 between 9.30 AM and 4 PM. Rooms in the dormitories will be ready for occupancy on the date of arrival only. It is important to check in within the given hours, as an introduction to the program will start at 4.30 PM on these arrival days, followed by a dinner with students and staff.
The student housing is located at Klostergatan 16, this is student entrance for those who have received their room key. The address where we welcome the students on arrival days is Kungsgatan 27.
Deposit
Upon arrival you are required to pay 1 000 SEK, 100 USD or 100 Euro, in cash,  toward the room deposit before you get your key. This deposit will be returned to you in cash at check-out, if your room is clean and nothing has gone missing or has been broken.
Please note: If your country has a different valuta than the above, it may be wise to exchange money at the airport or at the Central Station in Stockholm. The cheapest way is to use the ATM machines, which of course are also available in Uppsala.
Late arrivals
If you arrive later than the above dates or hours, please send an e-mail or call well in advance, specifying your date and time of arrival. You will then receive instructions on how to proceed. Students arriving after 8 PM cannot check into their rooms, but should check into a hotel for the night.
Check-out
All students will be checked out of their rooms on the last Friday of their course between 09.00 a.m. and 12.00 noon. It is not possible to stay in your room an extra day.
If you have urgent reasons to leave earlier, i.e Thursday, please talk to the staff in Uppsala. Please remember that the Farewell Dinner takes place on Thursday evening, an occasion you do not want to miss!
Day and time
A schedule will be published at the school two days before, specifying all check-out times. You can give your preference for a time slot in the week before you leave. It will not be possible to change those times once the schedule has been published.
Cleaning
All students need to clean their rooms or apartments thoroughly before departure.
The cleaning should include as a minimum:
vacuum clean the floor
mop the floor, dust all the furniture, empty the trash can
clean your bathroom and toilet thoroughly
empty and clean the fridge
clean what you have used in the kitchen
Everything needs to be ready and all your belongings have to be outside the room or apartment when we come to check the room.
Mailing address in Sweden June through August
You can have mail sent to this address only. It is not possible to receive mail at your residence.
Uppsala International Summer Session
your name
Box 15 100
SE-750 15 Uppsala, Sweden
Apply Soon for Summer 2024!
We would love to welcome you in Uppsala for an unforgettable experience.